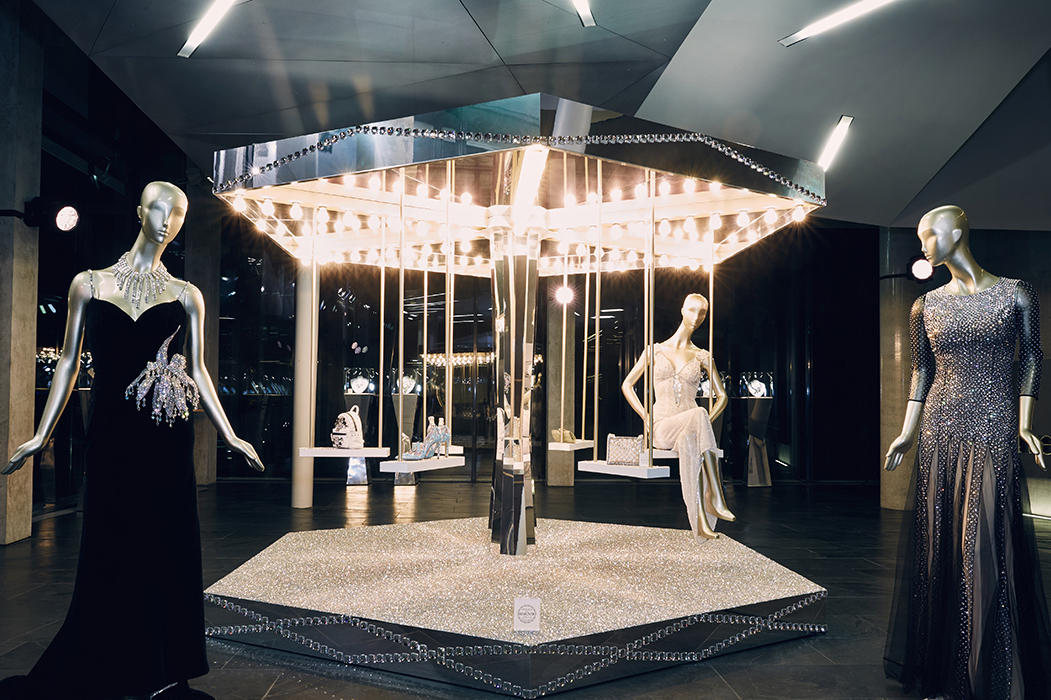 Exhibitions are powerful for luxury brands. A well designed installation by retail design companies can help a brand both re-engage customers and reach out to new audiences; draw people into an old story and craft an entirely new one; reaffirm themselves as market leaders, and grow in new directions. Using our experience in designing exhibitions for some of the biggest names in luxury, JUSTSO, one of the leading retail design companies, shows you the power of exhibitions for luxury brands.
Blurred Lines
Art can be priceless. And by putting work in the glass cabinet, luxury brands are given the opportunity to flirt with it. Alexander McQueen's V&A exhibition, 'Savage Beauty', perfectly summed up the blurred lines between fashion and art. Featuring displays such as "romantic primitivism", the show showed how fashion can capture the zeitgeist and become an artefact in itself. With the crossover between art and luxury audiences, this fusion is ideal – brands highlight the meaning, ethos and craft behinds their designs, all while reaching an engaged audience.
Tell a story
Exhibitions have the power to tell a story. Check out when JUSTSO worked in tandem with Swarovski to create a saga in seventeen stages. By illustrating the story behind the brand, the pieces became motifs of a bigger concept. Swarovski's narrative – the giant that searched the world for knowledge – added a mythical value to the work. In the eyes of the visitors, this creates a new or reinforced aura to the products. During and after the show, it carries a long-lasting association with the fantasy that it creates.
Longer Touchpoints
Exhibitions for luxury brands engage with time-poor consumers in a market dominated by flash advertising. Stalwart of exhibitions, Armani, whose portfolio includes a retrospective at the Guggenheim, opened an entire museum dedicated to the brand's work. Milan's Armani/Silos is open to walk-ins and holds regular exhibitions all year round. In an environment styled to the brand, it serves as a permanent emporium of work. The museum makes the act of browsing a recreational activity, with dedicated buyers given the opportunity to pour over classic and new pieces as part of their leisure time.
Adds Authority
A lookback exhibition adds authority to a brand by showcasing its longevity and influence on contemporaries. Christian Dior is set to perfect this through the upcoming exhibition at the V&A. Opening in early 2019, the show will trace the history of one of the 20th century's most influential couturiers. Thankfully, luxury brands don't have to rely on a V&A exhibition to benefit from the authority derived from an exhibition. Dior is also a great example of how a brand collaboration can serve to highlight heritage and consolidate brand identity. Back in 2013, JUSTSO, one of the leading retail design companies, worked with Harrods to help the department store host a show-stopping Dior exhibition, ensuring customers enjoyed the full 'Dior experience' at every corner.
A Warm Welcome
For new consumers, luxury stores can be intimidating places. Exhibitions create a neutral territory, where first-time clients can engage with the brand away from the pressures of the store itself. By presenting the exhibition under a stand-alone concept, brands can even broaden their market-reach. It's an opportunity to engage with hard-to-reach clientele that have the interest but lack the confidence or knowledge for a first-hand approach. For such customers, exhibitions make purchasing more approachable and can pave the way for long-term fans of the brand.
Combining art, heritage, and design, exhibitions are incredibly powerful for luxury brands. Like pop-ups, they leave a lasting impression on visitors new and old. No matter the brand, this is a way to reach consumers with something to remember.