RBS: Prince's Trust
The Royal Bank of Scotland is the largest corporate sponsor to the Royal Prince's Trust's enterprise program, a fantastic programme that provides disadvantaged young people with access to funding and mentoring support to enable them to start up a business and change their lives. This year was a little bit special for the programme as it was also celebrating its 30th year in existence. Our brief was to help raise awareness of the programme; JUSTSO was commissioned to create a vinyl window display design to cover the facade of their impressive head office building located in Bishopsgate.
JUSTSO's creative team went through a number of options before settling on one which they felt coincided with both such a worthy cause and impressive structure. The final product was a ribbon effect banner, which showcased both the Princess Trust's logo and featured a simple slogan of 'RBS welcomes the Princes Trust to the City' – a simple striking line, which celebrated the collaboration between the two.
JUSTSO continued this theme throughout, physically wrapping itself around the building. The most effective part of this window display design project was undoubtedly the messages attached to the surrounding ribbons, which featured individual case studies and real faces which the charity reaches out to. Key slogans included 'Destined for the Dole?' and 'They Call us a Lost Generation', as well as an image of the affected person and a paragraph highlighting their individual stories.
The surrounding ribbons were strategically placed at ground level, so that passes by would be exposed to these important messages. In an area of 'the City' which is prominent for so much success and prosperity, this was unquestionably, a moving message.
If you're looking for an exceptional Window Display Design Company, contact JUSTSO.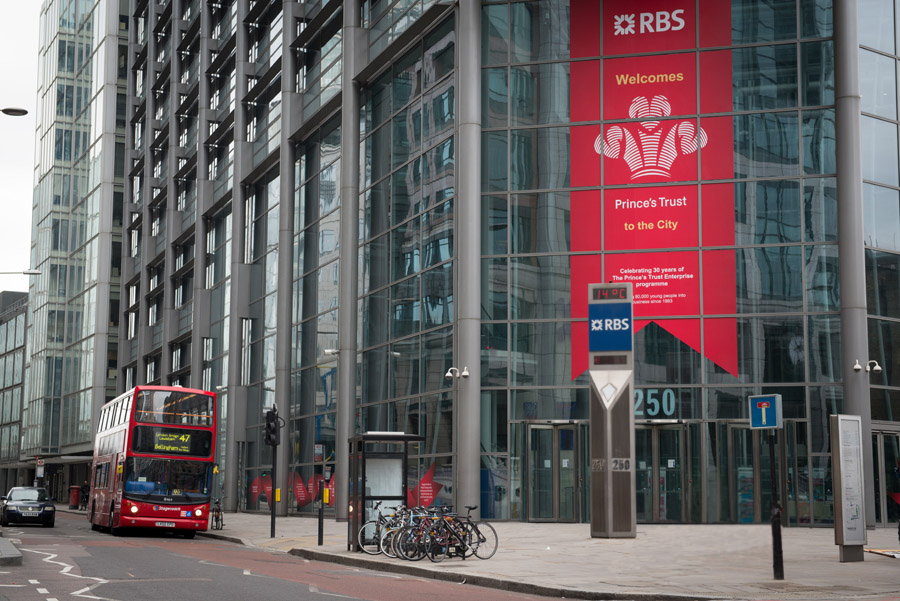 Live: May 2013 @ RBS Bishopsgate