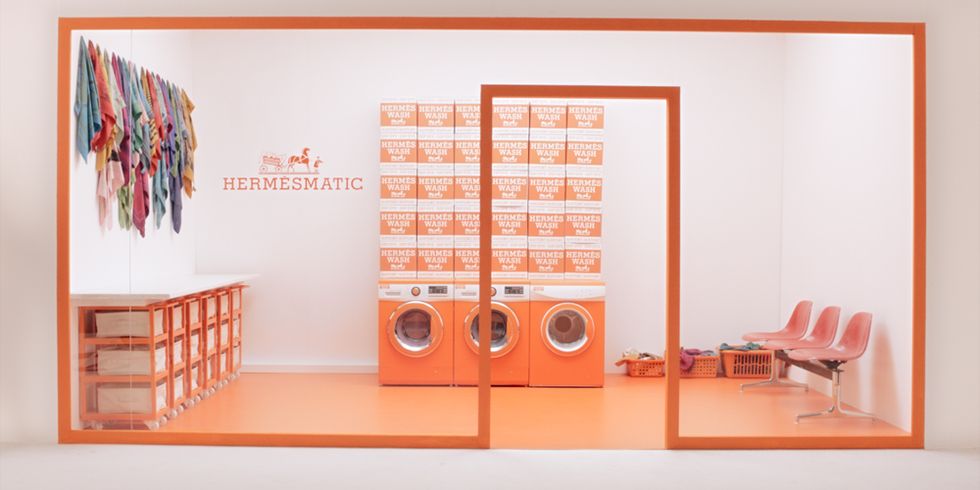 Ever wondered why your favourite cosmetics brand has just opened a diner pop-up? Or why a doughnut brand has seemingly decided to move into the hospitality biz (yes, Krispy Kreme really did open a speakeasy).
Dubbed the 'undercover pop-up', these activations are built on this element of surprise. On top of that, they're temporary set-ups in prime locations, so are precisely-targeted. They invigorate familiar forms, making them welcoming but refreshing, and they all come with their own iconic reference to an immersive world. Plus, they're effortlessly cool in converting creative spaces. Here are some of our retail and exhibition design favourites.
The Discreet
The YSL gas station was a great example of an undercover pop-up. Co-ordinated en route to Coachella, footfall would have been fooled by its authentic feel.
Instead of gasoline, it provided cosmetic refills (a desert must-have). 1950s convertibles, on-hand operators, and the stylised gas station created an authentic feel, with YSL flags cleaning up any lasting misconceptions.
The YSL gas station is undoubtedly the secret weapon of the undercover pop-up. Its mirage execution in the middle of the desert took travellers by surprise, but would have been a welcome sight to cheerful festival-goers.
The Nostalgic
The Hermes Laundromat converted a laundrette into a small dye factory. And gave visitors some fashion to walk away with. Its nostalgic setting proved leverage for fan commitment.
The laundrette provided a familiar landscape that reinvigorated the nostalgia of the social laundrette. It gave the chance for visitors to either buy new or bring their own scarves into the store to be dyed.
Playing on nostalgia in a comforting environment meant there was a platform for an ambitious buy-in, with the added benefit that customers got to walk away with an entirely new scarf.
The Cool
The Converse One-Star Hotel invited figureheads of London's subcultural scenes to performance space in Shoreditch. Its 'in' crowd set-up was akin to The Adidas Party campaigns or The House of Vans.
It's sadistic title played on the shoddy hostel experience millennials undertake over Europe. And like Peckham's Bussey Building and much of London's nightlife, it's creative retail and exhibition design was set-up over four floors. It featured art performances, a mini fashion show and talks by musicians such as Slowthai and IAMDDB.
The magic was that it was completely organic. It had carefully-chosen cultural icons across music, skateboarding and fashion. With an on-brand ensemble, Converse was adroit in creating a casual buzz.
The Iconic
Well-coordinated and highly immersive, The Benefit Roller Diner turned a traditional cosmetics counter into an American diner. It opened its doors to fans and invited them to into the motel glamour of Thelma and Louise.
Inside was busy, electric and played on the Grease aesthetic – like a salon without the queue. Visitors could select their liner from the counter. Hot pink, dirty dishes and a full bar of cosmetics topped off the vibe.
Its genius was in creating a cinematic feel for its target market, while harnessing the power of 70s Americana. For a femme-leaning market, it's retail and exhibition design created a kinky boots glamour, like walking onto the set of a musical.
So, pop-ups are increasingly finding creative executions. Undercover, highly-stylised, casual or nostalgic, retail design agencies are making contact with fans in highly effective ways. Retail design has changed so that the in-store pop-ups now face serious competition., with fans making some seriously unexpected connections.