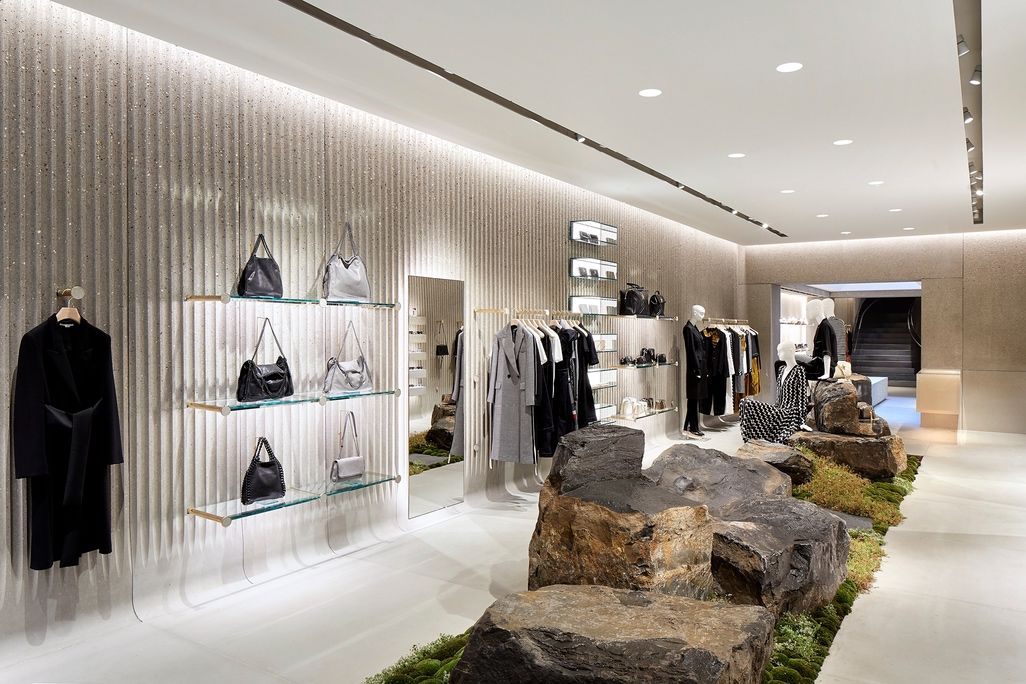 The runways of Fashion Week have never looked so green. With a growing consumer demand for sustainable fashion, designers have incorporated everything from 3D printed plastic to recycled fabric into their designs. But it's not just the clothes themselves that are undergoing a sustainable makeover – luxury retail design stores have also become the perfect testing ground for innovative tech, materials and design. In this article, we pick the top 5 luxury designers embracing in-store sustainability.
Stella McCartney
As the unrivalled queen of sustainable retail, Stella McCartney weaves environmentalism through both her clothes and her retail spaces. Her flagship Old Bond Street store showcases this dedication to in-store sustainability. Featuring air purifiers to reduce the effects of air pollution and incorporating only organic and recycled materials, the space is sustainable to its core, without sacrificing on customer experience.
Gabriela Hearst
For Gabriela Hearst, her light-bathed Madison Avenue boutique represents the future of fashion: "Brands are starting to realize that sustainability is a business proposition—and the only one which will guarantee success and profitability in 15 years' time," she says. "If you think about it, that is what the word actually means: being able to sustain."
In swapping out mannequins and window displays for a subdued colour palette, a tight inventory and bio-degradable materials, Hearst is trying to express "a new vision of luxury" – one with sustainability at its heart. The Uruguayan designer's commitment to reducing the brand's ecological footprint extends to the packaging and coat hangers, which are set to be 100% bio-degradable by April 2019.
Aesop
Luxury skincare brand Aesop shows how sustainability is best found in simplicity. The stripped back luxury retail design in store have become the brand's trademark. But that's not to say that each of its locations are the same. Part of Aesop's design philosophy is working only with what already exists, which means immersing itself in unfamiliar landscapes, exploring local materials, and taking inspiration from local heritage: "It is our intention to weave ourselves into the fabric of place and add something of merit rather than impose a discordant presence, and our consistent practice to use a locally relevant design vocabulary," the brand states.
So how does this translate to sustainability? For the Australian brand's Flinders Lane location, dedication to recyclability is expressed through the walls, which are made of exposed-edge cardboard sheets, designed to soften and evolve over time. Other locations spotlight local, sustainable materials, like the reclaimed Geelong wharf timber at Bondi Beach. With their hyper-local approach, Aesop shows how in-store sustainability can be as unique as it is consistent.
Bottletop
The title of the world's first zero-waste store goes to Bottletop – a London-based luxury accessories label that opened its first store on Regent Street in 2017. With a focus on sustainability, the brand artisanal production techniques with industrial design to create a uniquely futuristic space. A collaboration with a robotics firm and AI manufacturer has resulted in a luxury retail design interior that's almost entirely 3D-printed by robots using recycled plastic.
Bottletop claims that their flagship store is the first "world's first zero-waste retail space", with co-founder Cameron Saul explaining that the design shows how hand-made and high-tech elements can be "harnessed sustainably and work in harmony with our collection."
Perhaps the biggest lesson from these five eco-conscious brands is that luxury brands can embrace sustainability, without sacrificing a sense of prestige, glamour or timelessness. Whether it's through sustainably sourced materials or a commitment to cutting out plastic coat hangers and packaging, there are so many ways that luxury design retailers can ensure their stores match the innovation of their products.