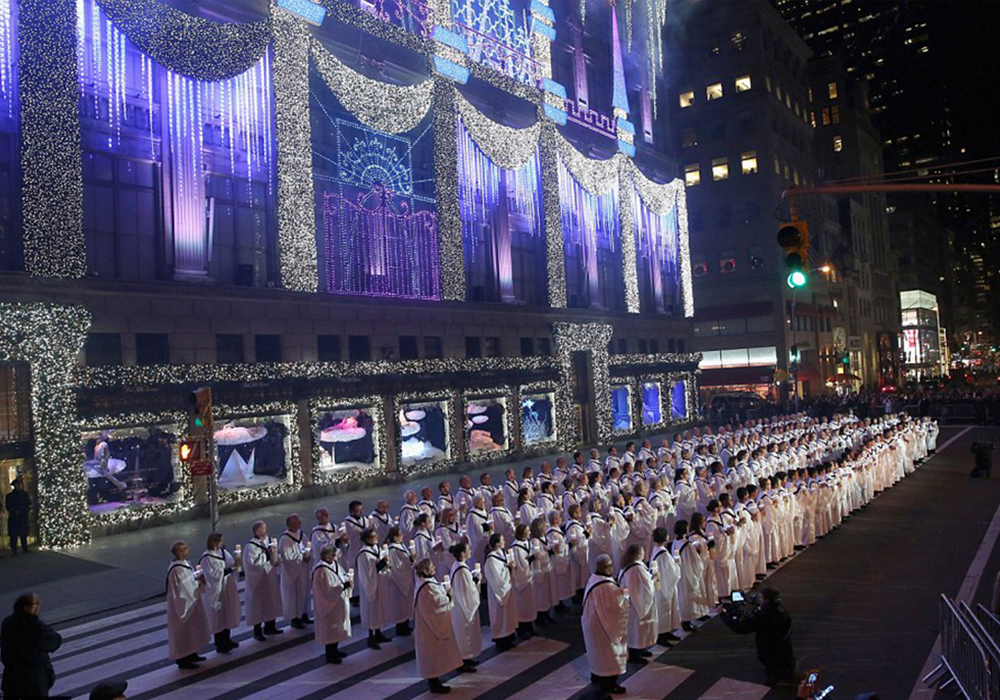 Over the years, JUSTSO has designed, managed and realised the Christmas window display design for some of the world's most prestigious brands.
This year, we want to share them with you. Our curated #12WindowsOfChristmas showcase the richness, elegance and magic of these displays, while also giving you a peak into the creative process behind our designs.
Window One: Chanel 2015
[URIS id=3669]
Chanel: Christmas 2015
The brief for CHANEL's New Bond Street Christmas scheme seems simple: Artificial camellias, warmly lit, amongst a flurry of snow. But faced with harsh London weather, we had to think carefully about how we could ensure the design stood up to the elements. The solution was vacuum forming the 600 camellias from weather-proof plastic, and treating the flocking with a weather-proof coating. The result was an elegant flurry of flowers and snow that was guaranteed to hold up to a British winter!
Window Two: Harrods 2014
[URIS id=3670]
Harrods: Christmas 2014
In 2014, shoppers were transported to "The Land of Make Believe" with our Christmas windows for Harrods. Alongside oversized vintage toys including snow globe, carousels, and puppets, we placed a collection of animated miniature white mice throughout the store, including Peter Pumpernickel – our tiny hero character.
Eleven of Harrods' most esteemed luxury brands were then invited to showcase their product in each window, including Stella McCartney, Alexander McQueen, Jo Malone, and Thom Browne.
Window Three: David Morris 2015
[URIS id=3675]
David Morris: Christmas 2015
When designing the New Bond Street window display design for this proudly British jewellery brand, it didn't take long to decide on a robin as the motif for their Christmas scheme. This much-loved bird featured alongside silver birches on the custom vinyl artwork that framed each jewellery piece.
Window Four: Swarovski 2014
We really wanted the crystals to be the star of the show in our art installation for Swarovski's flagship store in Vienna. The crystal-studded antlers of this majestic reindeer reflect and sparkle in the various tones of light that pour into the space.
Window Five: Harrods 2013
[URIS id=3679]
Harrods: Christmas Windows 2013
The glamour and elegance of the Orient Express was the inspiration behind the award-winning window display design. To truly evoke the atmosphere of this iconic train, precise attention to detail was needed to create everything from the burs, individual inlays and stud work, to the props, rugs and upholstery.
Once built, we transformed the inside of the carriages into a festive feast for the eyes. Iconic Ralph & Russo dresses dripping with Swarovski crystals met with the tiniest baubles to create the richly evocative scenes.
Window Six: House of Fraser 2016
We combined digital tech with luxury mannequins from Rootstein to create these dramatic windows for House of Fraser. By inviting customers to interact with the windows through digital, we really brought the brand's Christmas scheme to life.
Window Seven: Faberge
[URIS id=3677]
Fabergé: Christmas 2014
We took inspiration from the Russian story Silverhoof to create these fairytale themed showcases for the Faberge window display design. Each of the Grafton street windows presented a bespoke open storybook highlighting a key chapter of the fairytale, with pieces from Faberge's 2014 jewellery range suspended from the branches and treetops.
Window Eight: Saks Fifth Avenue 2015
[URIS id=3678]
Saks Fifth Avenue: Holiday 2015
Creating our 'Winter Palace' 2015 windows for Saks Fifth Avenue certainly required a global effort. Not only did we travel as far as the Taj Mahal to source inspiration, but we resourced a global network of partners to bring these six main windows to life.
Our concept was based around world famous monuments frozen in time. We continued this dramatic, mythical theme with statuesque bespoke mannequins – each one representing figures of the era of creation and of mythical legends.
Window Nine: Coutts 2015
Not all Christmas windows need to involve glass – this design is the perfect example of how an illustration can tell an important story. Aimed at promoting the important work carried out by Carers UK, our concept invited passers-by to spot the carer amongst the skaters within the scene, emphasising that there is no stereotype when it comes to caring.
Window Ten: Swarovski x Harrods 2011
[URIS id=3676]
Swarovski: Harrods Christmas 2011
In 2011, JUSTSO had the privilege of designing the Christmas windows for the first ever collaboration between Swarovski and Harrods. Evoking a crystal forest, the display featured a cast of enchanted creatures living in the crisp and sparkling world of a Swarovski wonderland.
Window Eleven: Chanel Christmas 2014
[URIS id=3667]
Chanel: Christmas 2014
JUSTSO dressed the storefront of Chanel's New Bond Street store with elegant garlands and wreaths for Christmas 2014. We also took advantage of 3D printing to create the motifs of Coco Chanel's profile as well as the iconic Lions head.
Window Twelve: Harrods x Disney 2012
[URIS id=3684]
Harrods: Christmas 2012
JUSTSO brought together two much-loved institutions in these iconic windows: Harrods and Disney. With such high expectations from the brands and fans alike, we took exceptional care in designing, making and sourcing all the necessary elements of these highly detailed and complex designs. Once every detail was just so, the window display design was unveiled with a fireworks display and the traditional Christmas parade featuring the Disney princesses themselves.