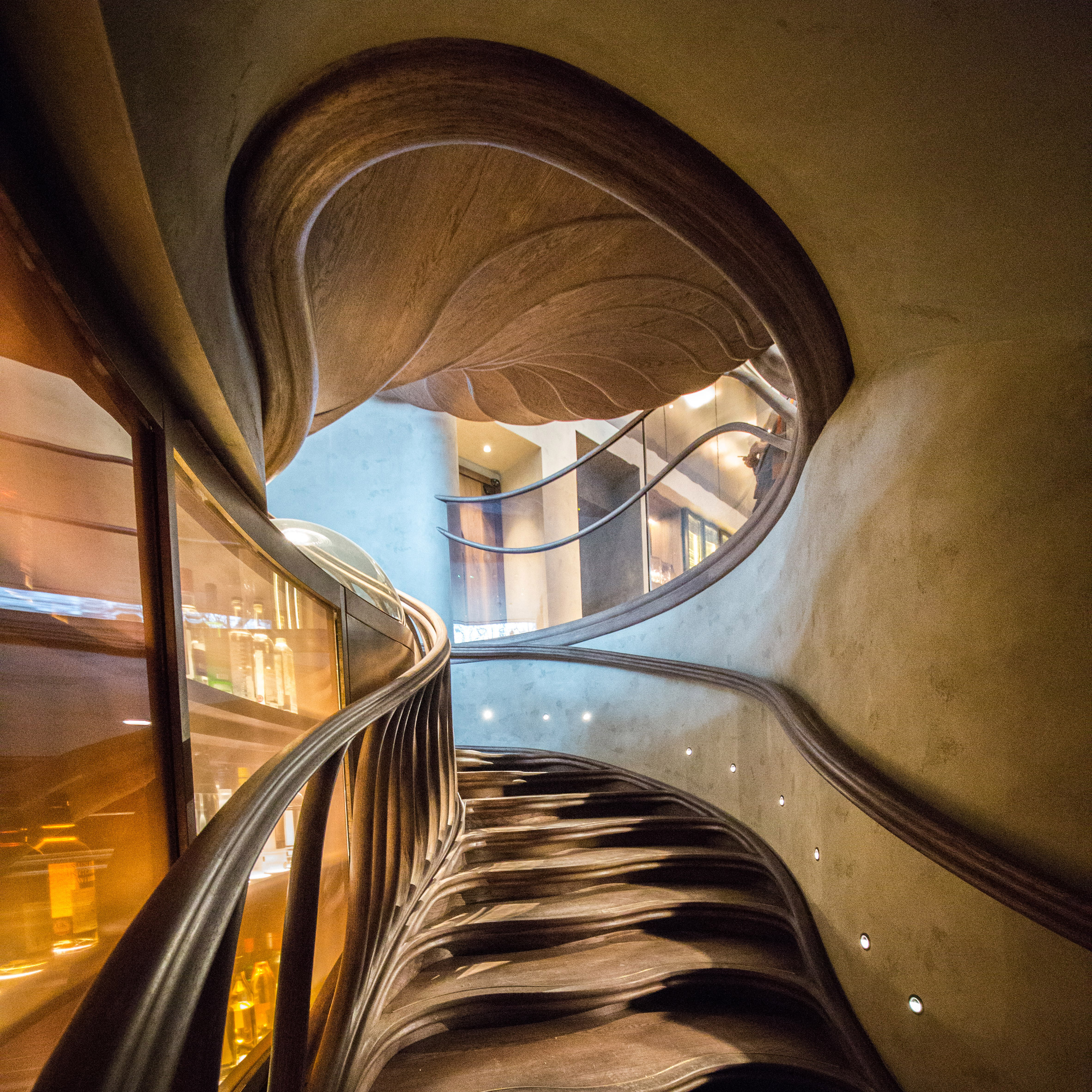 The staircase encapsulates the fundamentals truths of retail design: it must be equal parts intuitive and beautiful. Or if not beautiful, exciting. Both highly functional and laden with cultural and psychological symbolism, a well-designed staircase can be an architect's Magnus Opus. We may live in the age of the escalator and lift, but that hasn't made the staircase obsolete. Rather, it's invited even more creativity, complexity, and in some cases, striking minimalism, to its design. In this article, we explore how stairways have climbed to the top of the -s, which inspire retail design companies.
Organic designs
With its gentle curves and trunk-like presence, a spiral staircase invites organic design that speaks of sustainable and honest retail. A growing trend for free-flowing lines has been accompanied by experimentation with natural materials. In London restaurant HIDE, architects Atmos Studio created a sinuous timber staircase that continuously curves and winds upwards through the void, "unfurling into each upper branch and inner tread."
Similarly, Stella McCartney chose a twisting raw steel staircase to connect the four floors of her flagship Bond Street store. Against the rough concrete walls, the staircase is sculptural – a nucleus in the modular retail space.
Stairs as social spaces
As high-speed lifts bring into question the necessity of staircases, architects are beginning to explore different uses for the staircase. Take Neuehouse, a member-only, co-working space for creatives in New York. Its redesigned ground floor is dominated by its 'Spanish Steps' – a staircase that invites people to sit rather than climb during the day, and that is transformed into stage seating for lectures and gigs at night. The idea of reversing the traditional functionality of a staircase is interesting, and an example of how designers can give new meaning to established designs.
The grand staircase
A sweeping marble staircase has long been the pinnacle of luxury design. So it's no surprise that a marble staircase sits at the centre of Harrods' new fine watch department. Yet it's is a design with a difference – grand and elegant this staircase might be, but it's also playful. Sitting alongside a floor that's designed to look like a timepiece, the side of the curved staircase is covered in book-matched panels of veined marble. "The sweeping staircase is a significant new architectural feature that we hope will be enjoyed by customers for years to come," said Mike Rundell, designer and founder of Rundell Associates.
The design shows that staircases have the power to convey the character of the spaces they grace. From grand and luxurious to conceptual and playful, the design, finish and position of a staircase in a retail space reflects the heart of a brand.
For retail design companies, staircases have an eternal appeal – not just as functional routes but as an opportunity to entice customers into the upper echelons of the store. Of course, it's not always possible to build dramatic spiral staircases in luxury marble or raw steel, but that doesn't mean that your visual merchandising agency can't turn a stairway into something special. Clever use of vinyl, overlays, signage and even plants and botanicals can invite customers to explore the upper floors and actively enjoy the journey. After all, it's not the destination that counts but the getting there.
If you're looking for retail design companies, get in touch with JUSTSO.