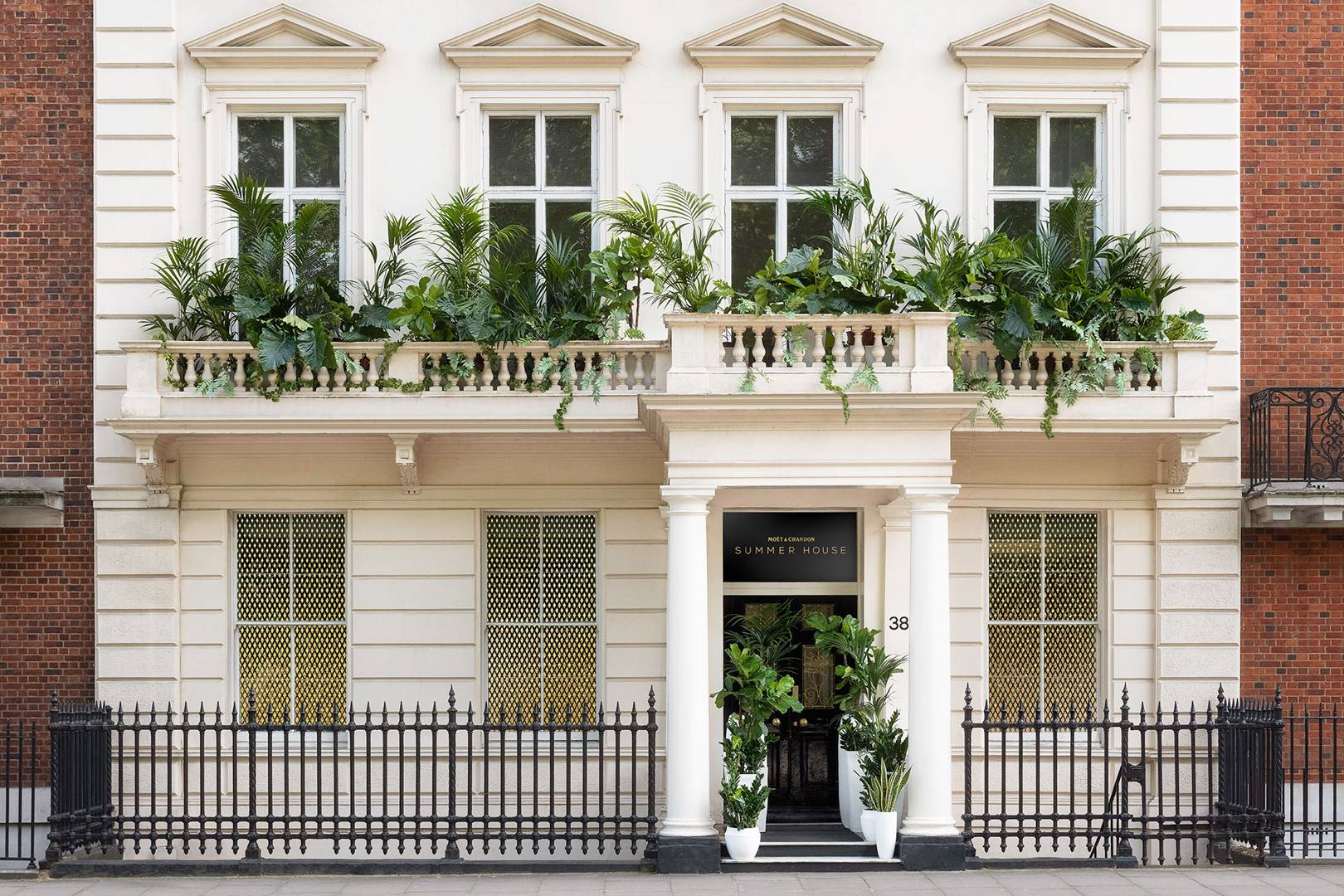 Pop-ups were made for summer. From rooftop bars to airport brand activations, temporary experiences capture the energy brought about by sunshine, holidays and day-drinking. Unlike winter, when these stores can be hemmed in by festive colour schemes and hot alcohol, summer pop-ups scream out for ever more creative colour schemes, far-flung locations and multi-sensory experiences. For a retail design agency, such as JustSo these spaces offer the opportunity to embrace that summer fever.
Be bold with colour
Think of a summer palette and you might imagine pretty pastels or Greek-inspired vibrant blues and whitewashed walls. But summer colours aren't just about cooling us down – they can heat things up too. Take Louis Vuitton's new neon orange Chicago pop-up. Part store, part art installation, this ex-nightclub has been filled with giant day-glow mannequins and painted traffic-stopping neon orange. When contrasted with a sun-washed neighbourhood, there's no risk of overlooking this pop-up.
Create a holiday romance
Nothing shouts summer like a bit of old-school Italian glamour. Black and white movies, beautiful starlets, vespas and negronis: Bvlgari is set to channel it all into their Selfridges pop-up this July. The Roman fashion house will premiere their Cinemagia high jewellery concept, which is inspired by the world of cinema. Selfridges director of accessories, Eleanor Robinson explains: "The brand embodies glamour and modernity – this unique and fun cinematic concept will be the perfect space in which to enjoy Bvlgari's legendary dolce vita."
By combining their rich heritage with an irresistible summer motif, Bvlgari shows how summer pop-ups can promise pure escapism – and an Audrey Hepburn inspired holiday romance to boot.
Take your pop-up on holiday
Customers away on holiday? Join them. Pop-up shops are like chameleons – they can blend into any environment, while still capturing the essence of your brand. This year, Dior is hoping to capture a sun-kissed audience with a wave of pop-up boutiques across Porto Cervo, Forte Dei Marmi, Mykonos and Ibiza. Featuring nautical stripes, soft pastels and elegant prints, the retail design reflects the jet set locations of the stores. As chairman of Dior, Pietro Beccari explains: "The pop-ups in summer locations are really beautiful because they can make the brand visible under another light."
Make the most of botanicals
Botanicals have the power to transport your customers to wherever it is you want to take them. Looking to recreate a romantic English garden? Get inspired by Harrods' Fashion Re-Told charity pop-up and go heavy with roses and peonies. A Mediterranean garden? Take a look at Burberry's new Mykonos pop-up. Filled with cacti, palms and olive trees, it encapsulates the scents, colours and textures of the Med. Botanicals don't have to be limited to interiors either. With the ever-growing popularity of wisteria-framed doors and rose encrusted walls, going big with flowers is a simple way to inject some sunshine – and Instagram love – into your store.
As a visual merchandising agency with a passion for the small details, JustSo adore the creative possibilities of summer. From evocative brand narratives to the tiniest window display design details, summertime design can be an absolute dream.