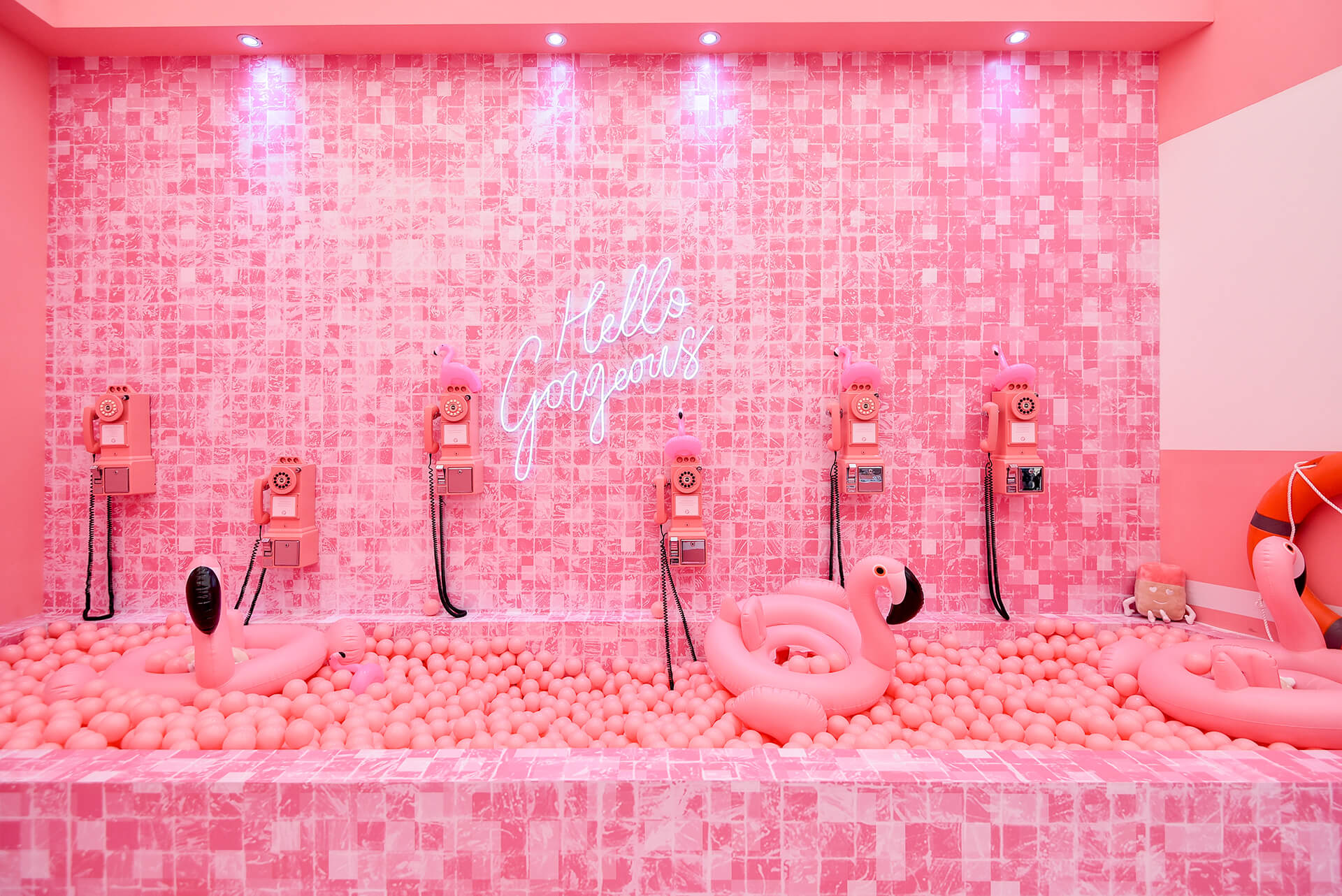 Beauty retailers have been facing pressure from online and discount stores for years and are now finding creative ways to drive retail. Industry techniques in Insta-worthy pop-up shop design, limited edition products and live samples are bringing consumers back to brick-and-mortar. These innovations are creating social and intimate set-ups that capture more of the traditional salon than the harshly-lit cosmetics departments that we're used to.
Customers are now finding the right product and receiving personalised consultations from trained make-up artists, a feature that gives retail the edge, while installations and limited-edition products are becoming powerful touchpoints for driving sales. These are the retail beauty brands making a true impact in converting customers to the high street.
Sephora's Department Store Show
In 2018, Sephora's Singapore Funhouse went full-circle with a department store set-up that showcased 10 brands' boxed-sized self-expressions. Inspired by a fairground funhouse, this was an emporium of Insta shots designed for instant thrills and playful interaction.
After entering through a bespoke archway of giant lips decked over a rainbow pathway, guests were invited to experience live workshops by trained artists and explore each brand's unique box. For, Tarte Cosmetics, this was an underwater rainforest, creating with a public pool filled with plastic orbs, azure lighting and marine props – an ultra-social experience with an aesthetic gesture to old-school bathhouses.
Chanel's On-Brand Exhibition
In their Le Rouge Pop-Up, Singapore 2018, Chanel curated an exhibition to the brand – a guided installation that showcased style, products and history.
The design was highly influenced by Parisian art deco bars showcasing interiors straight out of a cinematic smoking room. This spirit of 1920s indulgence was finished with a lip bar that encouraged fans to interact and exchange advice as they tried the products and received tutorials from guest make-up artists. The heavily-styled aesthetic provided great opportunities for selfies among bold brand designs.
The pop-up also incorporated limited edition products, including 10 super-size (30. 4 oz) Chanel No. 5 bottles – a true luxury for Chanel's most loyal fans.
Glossier's Cult Promo Drop
Set to launch their latest pop-up in London later this year, Glossier has positioned themselves as the cult beauty brand of 2019.
If their previous set-ups are anything to go by, their brand of 'millennial pink', which has dominated the palettes of their pop-up shop designs, will sum up the playful and carefree atmosphere inside. We can expect a bright and open setting, full of lo-fi havoc in keeping with their cult status. Their San Fransisco set-up was organised chaos, a free-for-all akin to a Highschool Girl's Bathroom.
So, pop-up shop designs are revolutionising the beauty industry with important innovations for retail design. With DIY salon set-ups, they've created a super social environment – an unprecedented intimacy inside for fans. They're also unrivalled in their ability to centre-piece products with limited edition sales and the try-before-buy salons, earning them an edge over online and discount stores. They can even facilitate old-style department store formats and create an opportunity for make-up artists. For the world of retail design, lessons can be learned from the current success of retail beauty pop-ups.