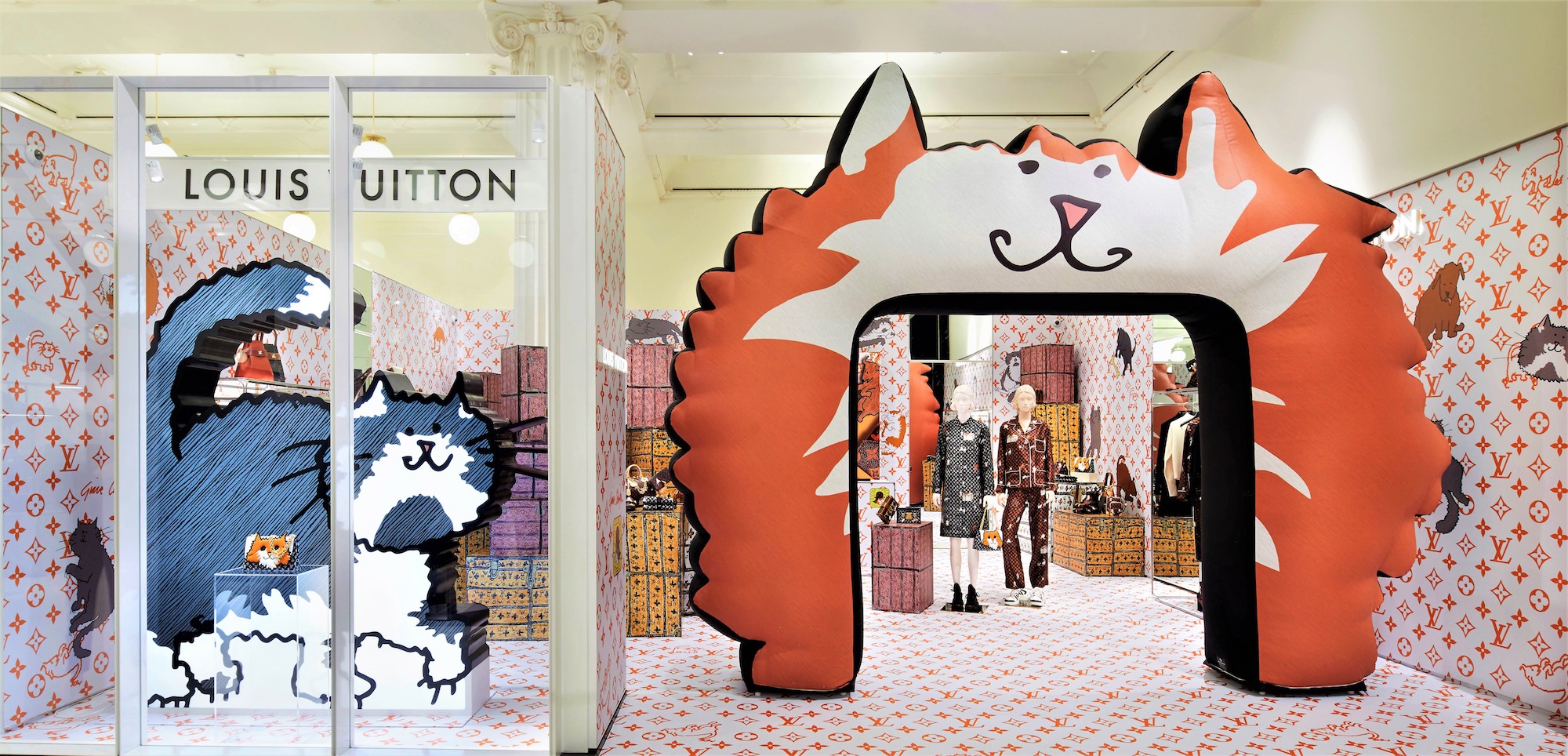 If this year's explosion of cat-themed collections and pop up shop design themes are anything to go by, it would seem that fashion is having a feline moment. Designer Karl Lagerfeld has made his siamese cat Choupette a star of his work, Balenciaga's leather handbags are covered with images of kittens, and a stray cat even strutted down the runway of a Turkish fashion show. It's safe to say that the cat lady aesthetic is officially in Vogue. A fact cemented by the launch of Vogue's creative-director-at-large Grace Coddington's cat-themed Louis Vuitton collaboration.
Coddington joined forces with the designer on an irresistible "Catagram" capsule collection. Featuring leather goods and silk pyjamas, the collection takes its inspiration from Coddington's own Persian cats, Pumpkin and Blanket. Mouse-printed canvas are used to line the handbags, while Louis Vuitton's monogram print is fused with cat illustrations to create the new Catogram. And don't fear, dog people: Nicolas Ghesquière's dog Léon serves as a muse too.
Unsurprisingly, this collection comes with an equally adorable pop up shop design. Open in Selfridges until January, the store is a celebration of all things feline. Fronted by an inflatable arch designed to look like Pumpkin, the space is festooned with LV logos, orange monograms and kitty illustrations. Serving as both shop and selfie-backdrop, this a pop-up that hits all the right beats.
According to Louis Vuitton, the space and collection is the result of the coming together of the designers' styles and feline love: "This audacious irreverence is in harmony with both Grace's iconoclastic style and Ghesquière's fascination with eccentricity — as well as reflecting their mutual adoration of animals."
Sustainability, experiential technology, and 'mellow yellow' have all proven themselves to be rising trends in retail design in 2018, and now it seems, feline fashion is about to join them.
The Louis Vuitton x Grace Coddington pop-up shop design is open at Selfridges until 16th January 2019.
Image courtesy of Louis Vuitton.