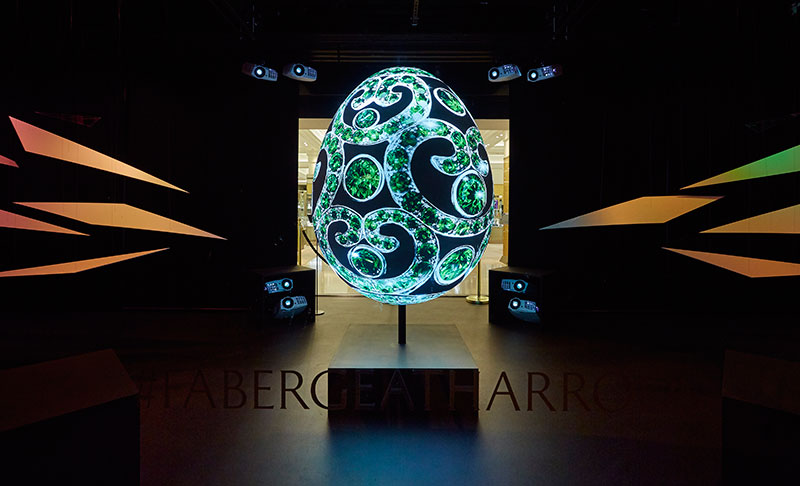 Phygital. The word might make your toes curl, but look beyond the portmanteau and you'll find a movement that's dominating conversations about retail. From high street retailers to luxury pop-ups, brands across the spectrum are bringing together physical and digital to create joined up experiences. Seamless and authentic, these experiential campaigns play on the strengths of both the digital and physical dimensions to harness consumers' attention and drive engagement.
What is phygital retail design?
Let's face it. Life in 2018 is phygital by nature, especially when it comes to the way we shop. Once a purely physical experience, the act of shopping has now become intertwined in a web of digital connections. Not only are we using Instagram Stories to ask for opinions on clothes, but we're comparing prices, searching for styling tips and sharing our reviews before we've even left the changing room.
With consumers already living a physical and digital existence, it makes sense that retail architecture should provide the tools to bridge the gap. For retailers, this is increasingly translating into the creation of digital touchpoints in their brick-and-mortar stores – a move that requires careful customer journey mapping, brand storytelling and intelligent retail design solutions to pull off.
Augmented reality, virtual reality, 3D printing, beacons and touchscreen kiosks have already made their way into some shops, with an even faster rate of adoption expected over the next few years. So how are brands leveraging the power of digital in their physical stores? And what can we expect from the future?
The Conran Shop and Pinterest
It was only a matter of time before a retail brand collaborated with Pinterest – the virtual wish-list centred around aesthetics. Blurring the boundaries between physical and digital worlds, Pinterest partnered with The Conran Shop to create retail design solutions including an installation that took customers on a "personalised shopping journey".
Starting at a landmark window display, customers were guided along a winding pathway lined with Pinterest's iconic red-topped ceramic pins and encouraged to interact with the installation through Pinterest Pincodes – custom codes that revealed curated ideas and products. By turning virtual mood boards into a shoppable reality, Conran were able to merge the coveted with the obtainable – and customers loved it.
Farfetch and 'The Store of the Future'
The widespread use of VR, AR and AI in high street retail is expected to be a few years off, but online luxury retailer Farfetch gave us a glimpse of the future with their tech-driven store. With "The Store of the Future", Farfetch showcased in-store tech that encouraged luxury shoppers to use their smartphone to log in when they entered the store. Once signed in, customers would receive personalised recommendations based on their shopping habits and wish lists.
Burdened with the risk of feeling gimmicky and out of sync with luxury retail, in-store technology in high-end stores isn't always easy to pull off. But Farfetch showed how the digital and physical elements can combine to produce a simple and elegant customer experience.
The future of phygital
We've become used to categorising retail brands as either physical or digital, but that's changing. Brands that were born online are now opening high street stores, and retailers that have always occupied brick-and-mortar space are pushing their business into the digital world with new retail design solutions. And the space in between has become more blurred than ever before.
It might sound messy, but for brands, the joining together of physical and digital offers an unparalleled opportunity for crafting unforgettable customer experiences. And tech-led retail design is at the heart of it all.
Find out more about how JUSTSO helps luxury brands leverage the power of digital here.