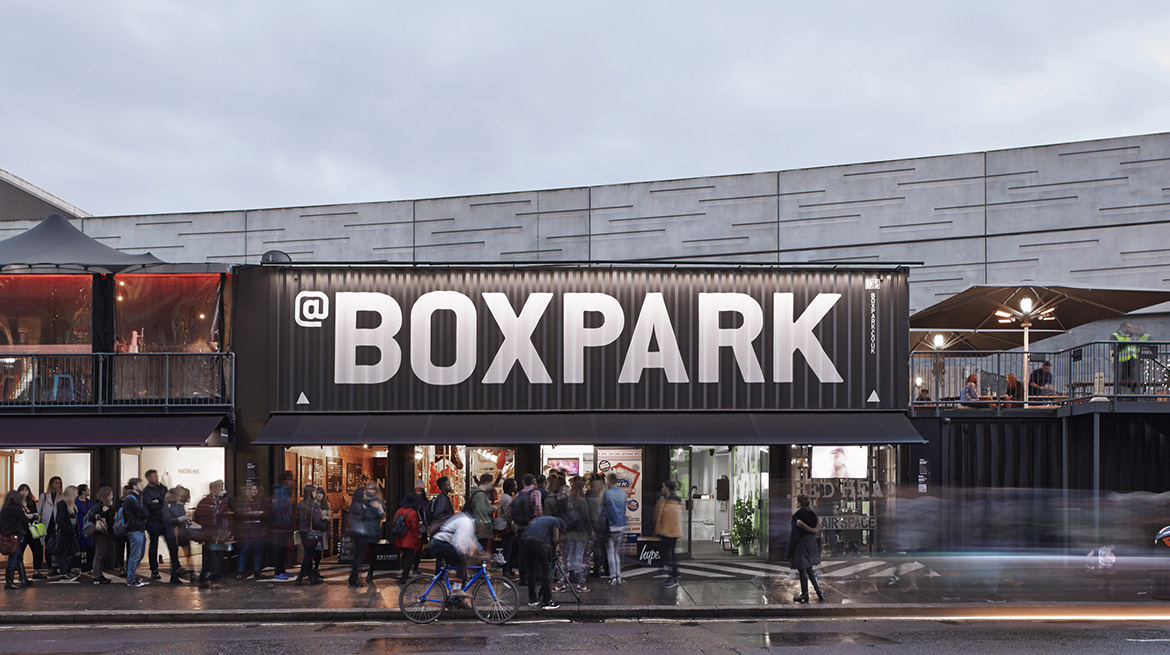 Industrial retail design lays bare the structure of a space. It flaunts raw elements such as wood and steel. Using motifs of industry such as clockwork, corrugated iron and steel piping for a factory feel, it takes inspiration from art deco design, industrial architecture and mass-production warehouses. Because it strips back layers, industrial design is minimal. And because it bears all, it encourages designers to opt for more durable materials.
The result is a straight-from-source sense of quality that's perfect for a luxury brand audience. Overall, industrial retail design makes for a raw and bold look, drawing consumers right into the production process. Here we give you the lowdown on everything industrial retail design – its past, its present, and its future.
Why industrial retail design?
Despite its stripped-back aesthetic, there's something immersive about industrial retail design Giving off an off-beat impression, it's ideal for brands associated with decay and industry, like G-Star Raw and Allsaints. Yet for all its warehouse edginess, industrial design offer something for boutique luxury brands too. Hinting at craftsmanship and quality, it brings a sense of authenticity to a space.
Industrial's upcycle culture marries well with pop up shop design too. Reflecting the temporary nature of a pop-up shop, industrial design turns machinery into fixings; tools into props; and crates into furniture.
Who's doing it best?
When used for luxury brands, industrial retail design is akin to that of the roaring twenties, where glamour and machine industry were closer than ever. Paris is a perfect breeding ground for this combination. Monaco-based studio, Humbert & Poyet highlights the raw beauty of industrial design in the interior of 55 Croisette. Combining raw materials and statement decorative elements, the design teams solid oak with exposed bronze and metallic furnishings, whilst sleek railings show-off big industry.
JUSTSO also made their mark on Paris's industrial retail style with their windows for Moynat, Paris. They focused on original craftsmanship, using brutalist inspiration, metal materials and clockwork. Luxury giants Gucci also recently created their London flagship with an industrial design inspiration. It features vintage dark wood sitting alongside industrial-inspired fittings.
Shoreditch pop-up mall Boxpark is another testament to industrial designs' suitability for pop-up shop design. Its rough and ready iron units are complete with manufacturer numbers, as though consumers had stepped onto working freightliner. A firefly set-up, it inspires consumer interest with short-lived creations, and provides a rugged setting for designers.
Create your own industrial design
Keep it simple. If you're working with an old building, strip it back and preserve its historic elements. Minimalism is key, so use raw elements such as wood, steel and iron.
Cluttered displays and over-processed materials are counterintuitive. Many tend to overdo it with industrial fixtures, but the fixtures should never be the focal point; they should draw the eye to the merchandise.
Upcycle old accessories: most machine fixings are obsolete, which means they're intriguing for consumers. Keep mechanical elements on show. Anything motorised, or disused clocks and gears, adds to the essential element of industry.
In today's market, industrial is ideal. Its creative, marrying well with pop up shop design culture by reinventing old materials. Its immersive thanks to intricacies and bold aesthetics that capture visitors. And its touches of craftsmanship and visible quality are perfect for a luxury audience.