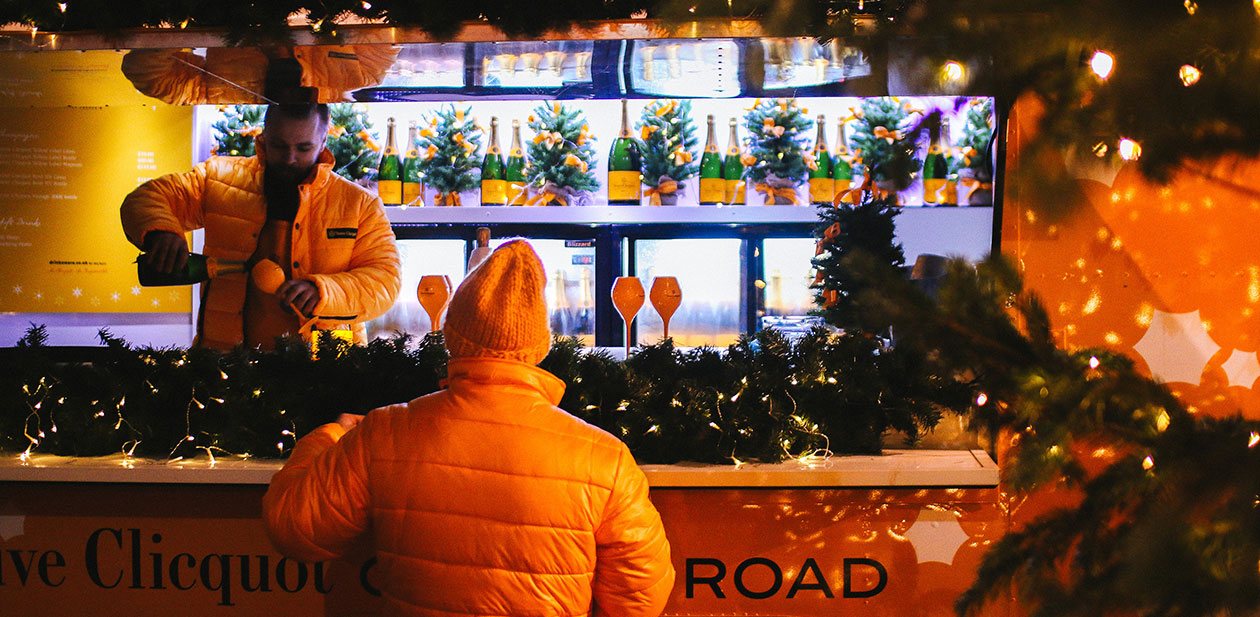 Celebrate the festive season in style with a look at luxury Christmas pop up shop design from 5 stores. From an airstream champers bar to a life-size dressing up box, there's something spellbinding for everyone.
Christian Louboutin at the Royal Exchange
Christmas and red go hand-in-hand. There are holly berries, Santa's suit, picture perfect postboxes, and as of this December, a certain designer's red-soled shoes.
That's right: Christian Louboutin has opened a festive all-red seasonal men's pop-up shop design in The Royal Exchange. The concept store showcases evening style for the party season, as well as an exclusive gift wrapping services. The final touch? A bespoke Christian Louboutin wax seal stamp.
Veuve Clicquot at St Pancras Renaissance Hotel
If anything's going to take the edge of Christmas shopping, it's the Veuve Clicquot pop-up at St Pancras Renaissance Hotel in King's Cross. Back again for another season of festive fizz, the sparkling airstream champers bar offers a range of champagne under the neo-gothic arches of one of London's most spellbinding hotels. Carol singers included.
Cabana at Burlington Arcade
Looking for a change of pace from minced pies and mulled wine? Then Burlington Arcade's Cabana pop-up shop design is just the ticket. Arriving in time for Christmas, the jewel box of a shop is decked out with sumptuous Persia-inspired plates, prints and accessories. Spread over two floors, the space offers gift inspiration aplenty.
French Winter Village at the Langham
Swap Marylebone for Megève this Christmas with the French Winter Village at the Langham. In partnership with Grey Goose, the 5-star hotel has transformed its Courtyard Garden into an opulent French alpine paradise. Sip on hot and cold cocktails and enjoy festive food straight from the wood fire underneath a twinkly Christmas tree or get cosy under blankets in the chic rustic hideaways.
Meri Meri Dressing-Up Pop-Up at Harrods
Christmas pop-ups aren't just for grownups – kids can get in on the action at the Meri Meri dressing-up pop-up at Harrods. Featuring a treasure trove of costumes for all to enjoy, little-ones get to have their own magical party in a life-size dressing up shop, and parents can have a well-earned rest from shopping.
Psst. Looking for something a bit more grown-up? Don't forget to drop by the CHANEL London Studio at Harrods for advice on perfecting your party season look.
Want to know how a pop-up shop design can transform your Christmas retail campaign? Discover how JUSTSO can help.