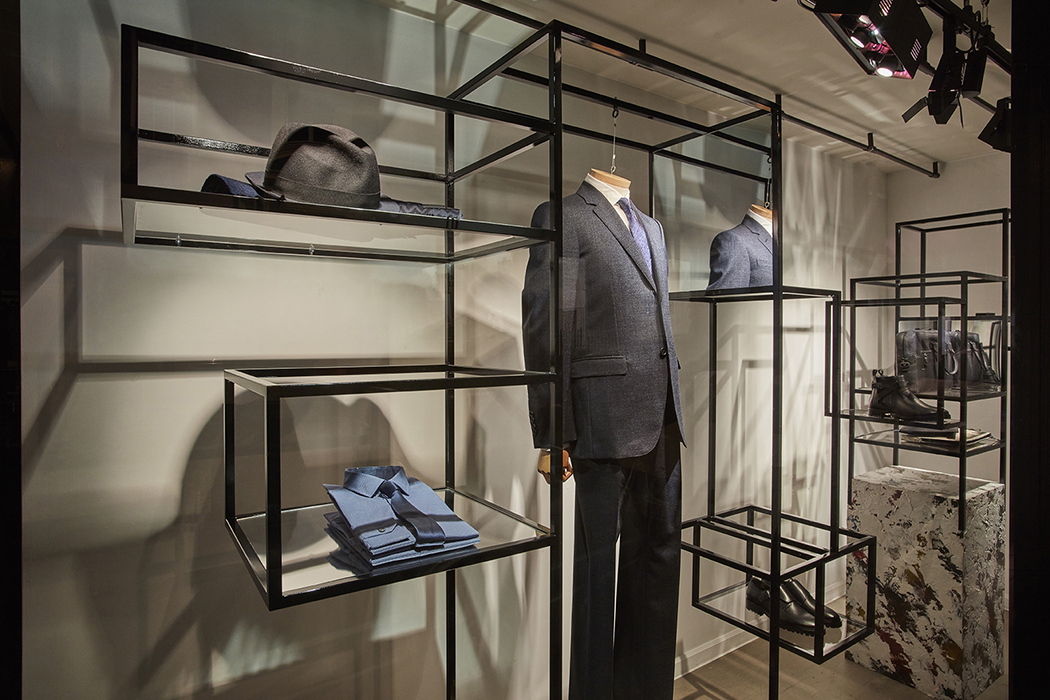 Let's face it, the end of summer brings only one concern in the world of retail: Christmas. It means that for most brands, autumn window display design doesn't get much of a look in. Yet this much-loved season, with its rich colours, textures and hints of romance, offers a wealth of inspiration for designers. Here we explore some of the unique ways you can mark the arrival of a new season –and elevate your Fall/Winter collection – through your autumn window display design.
1. Keep it subtle
Think of an autumn window display and you probably imagine piles of pumpkins, leaves and harvest baskets. But rather than recreating a Thanksgiving table, the season invites subtle uses of colour, shape and theme.
When JUSTSO were asked to support Lanvin's autumn campaign at both its London stores, we drew inspiration from the fictional architecture series of the photographer, Filip Dujardin. A series of gold and black abstract geometric display cases provided the opportunity to bring in elements of warmth of texture, with the bases receiving an artistic scene treatment. Paired with carefully selected pieces from the AW collection, the understated autumn window displays reflected the mood of the season, without any of the gaudiness.
2. Evoke a sense of place
For shoppers (especially hygge-lovers), autumn has its own romantic appeal. The nights get longer, the days crisper, and the world feels softer. Locations like New York, London and Paris are at their most evocative during this season, making them irresistible muses for an autumn window display design.
Working for Hermès in Amsterdam, artist Elsa Dray Farges offers a beautiful example of how visual merchandising can be used to create a sense of place. Focusing on the iconic rooftops of Paris, the papier mâché display captures the essence of a Parisian autumn day.
3. Bring in warmth to your autumn window displays
If Christmas is the time to ramp up the snow and ice, autumn is the time to warm things up. For 2018, the tone-on-tone monochromatic world of Wes Anderson is a proving a particularly way of introducing a warmer colour palette to autumn window displays.
This year, Coach scooped first prize in the International Visual Competition for their Wes Anderson inspired 3D 'Subway' windows. Not only is the colour palette warm and instantly recognisable, but the subway motif is a great example of how to build a sense of nostalgia outside of the holidays.
4. Make the most of natural materials
Autumn inspired design is a great opportunity to tap into another of 2018's retail trends: responsible reinvention. During a season where nature is at its most extravagant, it makes sense to invite its colours, textures and materials into your window displays. Consider how you could use natural materials like wood, stone, metal and paper to elevate your collections and create a simple transition from summer into winter.
Autumn might not be the flashiest season for window displays, but it is one of the most irresistible for retail designers. With an abundance of cultural, natural and aesthetic inspiration, it offers the perfect opportunity to play around with colour, materials and motifs.